Most of us are still self-isolating, so I hope these bright colors and cheerful thoughts give you a bit of inspiration to make, write, post, paint, or photograph something to share in May! And don't forget your mom.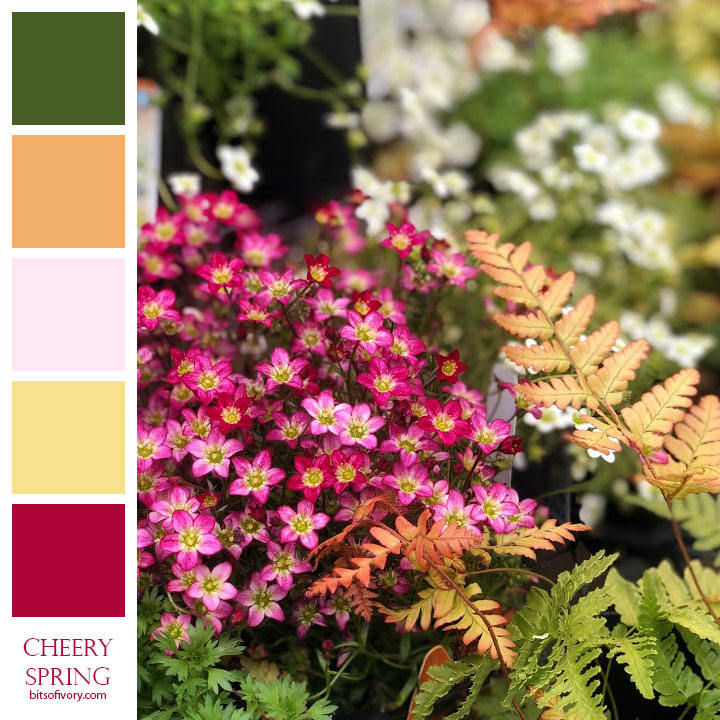 Bright Colors for Creative Inspiration: Cheery Spring
May
Deep Green: Hex 495E25
Sherbet: Hex F2AF69
Petal Pink: Hex FFE7F4
Golden Spring: Hex FBE08B
Cheery Red: Hex AD0538
May-Inspired Writing or Drawing Prompts
Whether you're writing a book, a journal, or a social media post, here are a few words and prompts to get the ideas flowing! Looking for drawing or lettering prompts? Explore these prompts for ideas when you're feeling stuck!
Flowers
Celebrate
Together
Gather
Distance
Quiet
Birdsong
Sharing
Blossoms
Pollen
Bees
Berries
Garden
Sowing
Cultivate
Grow
Love
Mother
Letters
Mailbox
Naptime
Fresh cut lawns
Sunshine
Picnics
Butterflies
Wellbeing
Baking
Learning
Neighbors
Books
---
I'll be drawing from these prompts and using the May palette in some projects this month, so follow along on my @happythoughtindeed channel to see them in action.
And don't forget to tag me in your social media posts if you use these colors or prompts for creative inspiration in your own projects!