Whatever kind of project you have in mind, I've got creative inspiration for you, including a love-inspired color palette and writing/drawing prompts. Whether you're writing, painting, posting, or snapping photos, here's a little creative inspiration for your March projects.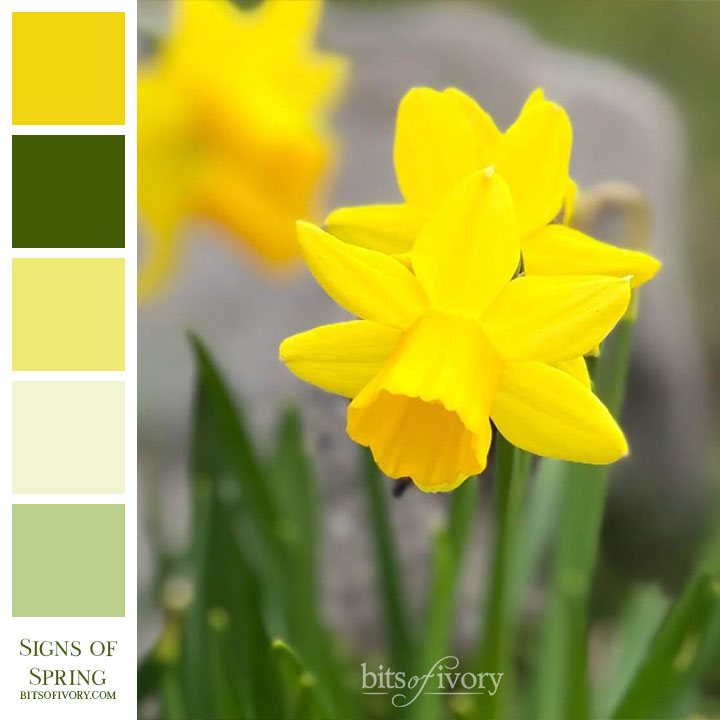 Colors for March's Creative Inspiration: Signs of Spring
When I think of March, I think green. It's not just because of St. Patrick's Day, though that's definitely part of it. It's also because in my little corner of the world, March gives us the first promises of spring. The snow is melting, and underneath I see hints everywhere of green, almost green, and once was green.
Daffodil: Hex f0d611
Leafy Green: Hex 415c04
Soft Sunlight: Hex efea76
Spring Haze: Hex f1f5d2
Verdino: Hex bbd08d
Spring-Inspired Writing or Drawing Prompts
Whether you're writing a book, a journal, or a social media post, here are a few words and prompts to get the ideas flowing! Looking for drawing or lettering prompts? Explore these prompts for ideas when you're feeling stuck!
Blossom
Leaf
Bud
Melt
Warm
Sunshine
Cheerful
Heritage
Magic
Wishes
Cabin Fever
Walk
Seeds
Sowing
Dig
Cultivate
Soil
Garden
Planning
Friendship
Tulips
Evergreen
Hyacinths
Crocus
Uncover
Secret
Gold
Make
---
I'll be drawing from these prompts and using the March palette often in my projects this month, so follow along on my @happythoughtindeed channel to see them in action.
And don't forget to tag me in your social media posts if you use these colors or prompts in your own projects!