It's a truth universally acknowledged that a green salad being served at a meal must be in want of a dressing. Except for this buffalo chicken tossed salad.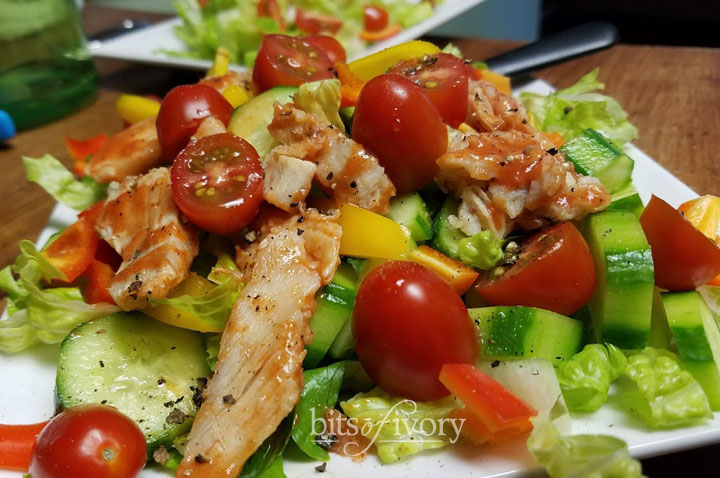 The Tossed Salad Dilemma
Leafy greens and colorful veggies are so healthy. As a family, we really love eating tossed salads, but it's easy to tip the balance to unhealthy pretty quickly when you start adding toppings and dressings.
I have to avoid most salad dressings for allergy reasons, leaving my salads kind of sad and pathetic looking next to the rest of the families.
BORING!
So as you can imagine, I'm always looking for ways to make a salad that's bursting with flavor without all of those extras – and this one has quickly become one of my favorites!
Recipe for Buffalo Chicken Tossed Salad
Ingredients for Each Salad
2 oz cooked chicken cut into strips
2 Tbsp buffalo hot sauce (or more, to taste)
3 cups romaine lettuce, washed and cut into small pieces
1/2 cup cherry tomatoes, halved
3 small sweet bell peppers cut into strips
1 cup cucumber slices
Salt and Pepper
Instructions
Toss the vegetables together and arrange them on the plate.
Toss the chicken with the buffalo sauce, and place on the bed of vegetables.
Add salt and pepper to taste.
Dressing Optional
This is a great recipe to make ahead if you're doing meal prep for the week! Just layer it upside down in the container to keep the romaine on top, and the salad stays crunchy and delicious for a couple of days in the refrigerator.
Some in the family like to top this off with a bit of ranch dressing, but that's completely optional. The crunchy veggies and buffalo sauce make this salad super tasty and not a bit dry.
No more boring salads!